Odell
Odell, Bedfordshire, UK
---
Click here for Odell Church News
The deadline for submitting responses to Bedford Borough Council's "Local Plan 2035" was 5pm on March 29th 2018
Click here for General Information about the Local Plan for North Bedfordshire
These are from edited highlights from the March 21st 2018 meeting of the Odell Parish Council:
"Local Plan 2035

A new public consultation is giving residents the final chance to comment on the Borough Councilís
proposed Local Plan, setting out preferred sites for the development of around 8,000 homes to the
year 2035. The consultation has recently been extended and now concludes at 5pm on Thursday 29
March 2018. Responses from residents can be submitted via www.bedford.gov.uk/localplan2035 or
by e-mailing planningforthefuture@bedford.gov.uk. The preferred strategy now includes significant
growth in a new garden village at Colworth, near Sharnbrook, which if adopted would provide capacity
in this local plan period and beyond.

The meeting expressed concern at the impact of development along the A6 corridor, which is already
congested at peak times. In particular, the proposed Colworth Garden Village would have no planned
east west infrastructure which would inevitably introduce unacceptable levels of traffic on minor
country roads seeking access to major routes. This represents a major constraint to growth in this
location. Furthermore the North Bedfordshire countryside is amongst the most beautiful in the
County, consisting of top class agricultural land and many un-spoilt villages with roads that are not
suited to the additional traffic that large scale development would generate."
ooo OOO ooo
Upcoming events in Odell - Spring 2018
Tea in the Tower with trips up the church tower - see 7 church spires from the fantastic view
All Saints' Odell, Easter Weekend Sunday 1st/Monday 2nd April 2.30 -5pm
Gary Pease is Rod Stewart! Odell Village Hall - Saturday 27th April 8pm
https://www.facebook.com/events/135658043629789/
ooo OOO ooo
WALKING THROUGH THE WOODS - July 20th 2017 UPDATE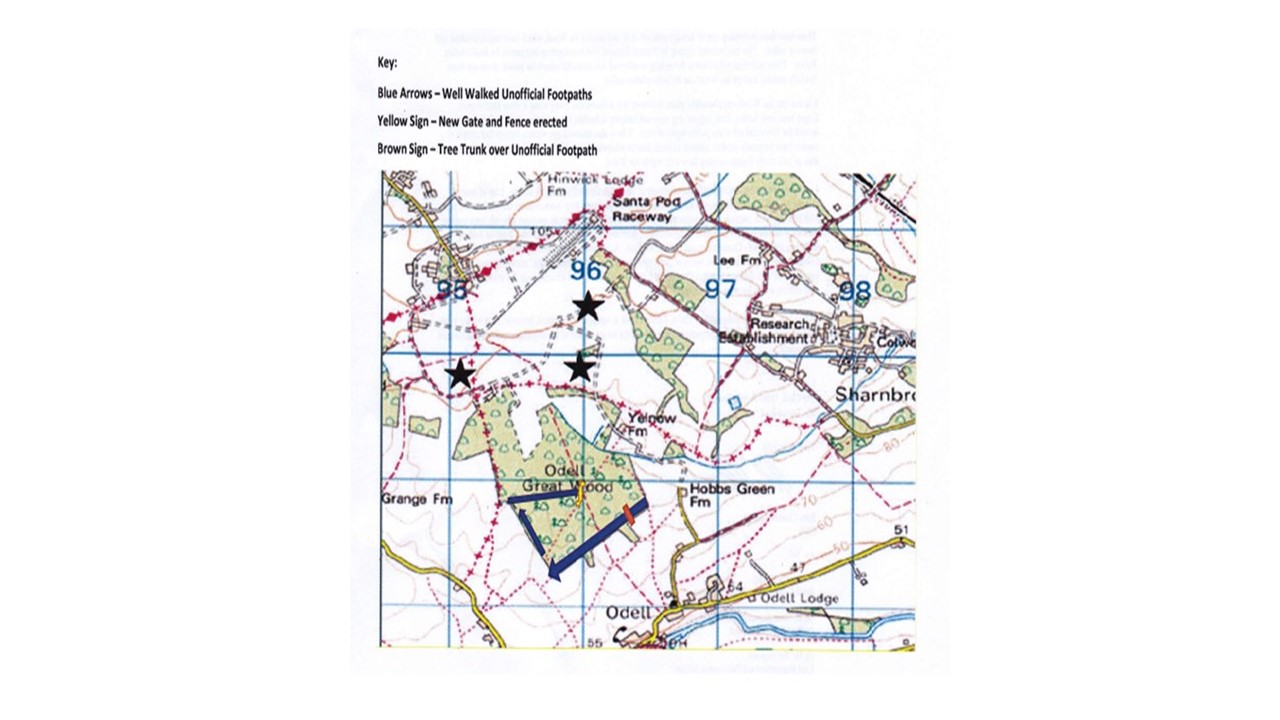 The Parish council met on July 19th and around 20 local people attended the open session to offer suggestions and express concern over the walking restrictions. Steve Dilley was at the meeting to represent the landowner. The council is keen to be fair to all parties and there was a cooperative spirit around the common interests of locals and landowner alike in wanting to stamp out vandalism, protect the woods and so on. It was clear that the root cause of vehicular traffic abuses is the fact that White Lane and Yelnow Lane were given unnecessary 'BOAT' status (which allows motorised vehicular traffic) and that issue needs to be addressed separately. Most people understand the need to close any paths while dangerous operations are in progress. The parish council will likely remain impartial while doing all it can to support the cooperative spirit. With a cooperative spirit the likely sensible outcome is that the three 'well walked unofficial footpaths' shown with blue arrows on the map above will be permitted for walkers with all necessary rules regarding dogs on leads, stay on the path etc... however, there are people who would like to apply to the Borough council to have these three footpaths recognised as official footpaths as a way of safeguarding longer term access to these beautiful routes. The borough council will consider such applications on their merits and details of that process can be downloaded from the links below (the guidance and the forms were as provided by Bedford Borough Council on June 18th 2017) The phone number for the Definitive Map officer is 01234 228335. The official minutes of all parish council meetings can be found at: http://odell.bedsparishes.gov.uk/files/
Click here to download a copy of Bedford Borough Council DMMO Guidance Notes
Click here to download a copy of
DMMO Form 1
Click here to download a copy of
DMMO Form 2
Click here to download a copy of
DMMO Form 3
Click here to download a copy of
DMMO User Evidence Form
ooo OOO ooo
Monthly Odell news is now carried by the Harrold Bridge Magazine - see http://www.harrold.info/newsads/bridgemag.html
Scroll down for archives of Odell news ( Monthly magazine editions from 2000 - 2016)
Click here for The Village Hall FaceBook Page
Click here for The Bell FaceBook Page
Click here for news about Harrold-Odell Country Park
Visit The Odell Parish Council Website
Council Archives about Odell Bedfordshire
Click here for news about Sharnbook Mill Theatre
Wikipedia entry for Odell Bedfordshire
For our cousins in Concord MA and elsewhere in the USA
---
Welcome to Odell, Bedfordshire
Odell is deep in the north Bedfordshire countryside, 8 miles from Bedford and 10 miles from Wellingborough.
Village News - February/March 2016
Church News - February/March 2016
Church News - December 2014/ January 2015
Church News - July & August 2014
Church News - December 2013 - January 2014
Church News - July - August 2013
Church News - December 2012/January 2013
Church News - July / August 2012
Church News - July/August 2011
Church News - July/August 2010
Church News - December 2009/ January 2010
Church News - July/August 2009
Church News - February 2009 (includes the latest sounds of Odell Bells)
Church News - December 2008/ January 2009
Church News - July/August 2008
Church News - December 2007/ January 2008
Church News - July/August 2007
Village News - Dec 2004/ Jan 2005
Pictures from Odell fete - June 14th 2003
Pictures from Odell fete - June 8th 2002